Working Group B (WGB) 60 is in full motion and for the second year in a row, the CTBT Young Professionals Network (YPN) had the opportunity to meet in-person over coffee and snacks. The following is a summary of the presentations and discussions from the meeting.  
Getting to know our members work through scientific presentations  
On 16 March, the Young Professionals Network organized a Lunch Meeting for members at Vienna International Centre (VIC). Although we experienced some technical issues at the beginning of the meeting, other YPN members could eventually participate virtually, thanks to the supportive CTBTO technicians. While we were waiting for Zoom to cooperate, YPN members introduced themselves and talked about their background, current work and job responsibilities, prior participation in WGB.  
YPN member Andreea Chircea from Romania kicked off the meeting with her presentation about the Romanian national data center. Since 1976, Romania is an active participant in the technical preparation of the international verification system in support of the Comprehensive Nuclear-Test-Ban Treaty (CTBT). The scientific presentation ended with a rich and informative Q&A. Learn more about Andreea's work and the Romanian NDC in her presentation attached!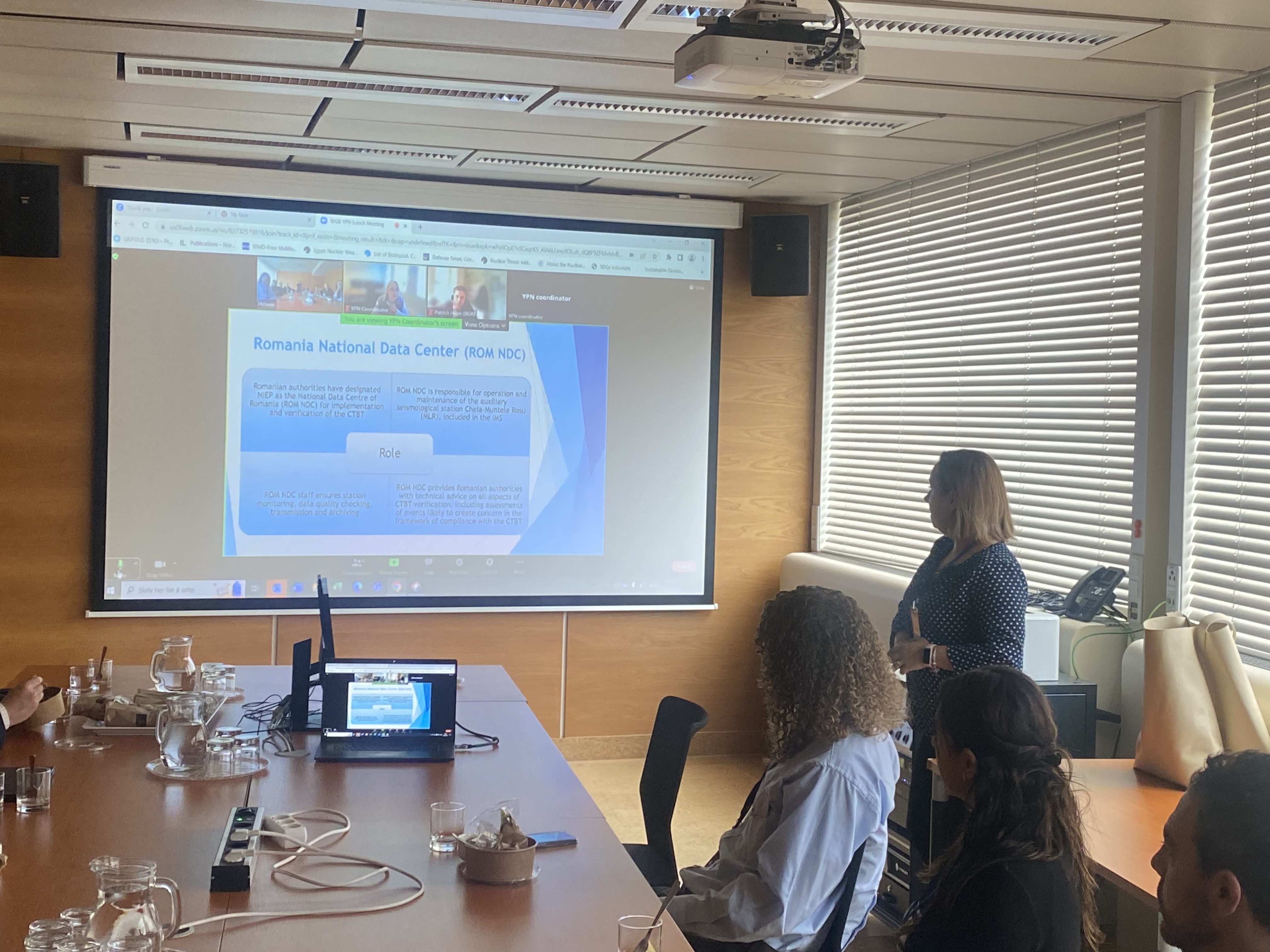 Interchange with CTBTO Recruitment Team 
Marta Fernandez de Mazaramboz, Hemamali Kularatne and Sara Sorger from the CTBTO Recruitment Team, which is part of the CTBTO HR Services, held a presentation about HR activities of the CTBTO. During their presentation, YPN members got a general idea about what types of career opportunities are generally available. In addition, the Recruitment Team gave tips and tricks in the application and interview process in order to be more prepared. Sad that you missed it? Don't be, the presentation is attached! 
SnT23 brainstorming  
Towards the end of the meeting, YPN project manager Helene Ruud presented the tentative plans for YPN participation during SnT23. At SnT 2021, the Young Professionals Network had a successful online side event and panel debate on new technological developments and verification. The plans for this year will be more ambitious. YPN is planning to have a boot at SnT which will be manned at all times. Here, members will be able to share information about YPN while also showcase their own work and share their own material. YPN is in addition planning to a similar panel discussion to that of 2021, which will take place in the morning over coffee and breakfast.