CTBTO Executive Secretary Robert Floyd met Young Professionals Network (YPN) members
Several members of the Young Professionals Network (YPN) met Robert Floyd in connection with CTBTO's visit to NORSAR, the Norwegian National Data Center (NDC).
---
Multifaceted generational shift
NORSAR has been through a multifaceted generational shift with regards to both people and electronics. Over the last years, the retirement of many employees in the operations department has led to many changes. Numerous younger scientists and technical professionals have joined the NDC, and in fact, NORSAR has eight members of the CTBT Young Professionals Network. Simultaneously, NORSAR is directing focus to innovative technologies to ensure modern and effective operations.
When Robert Floyd visited NORSAR on the 17th of December 2021, YPN members Sindre Stokkan and Jon Magnus Christensen presented interesting operational developments and technological priority areas for the Executive Secretary.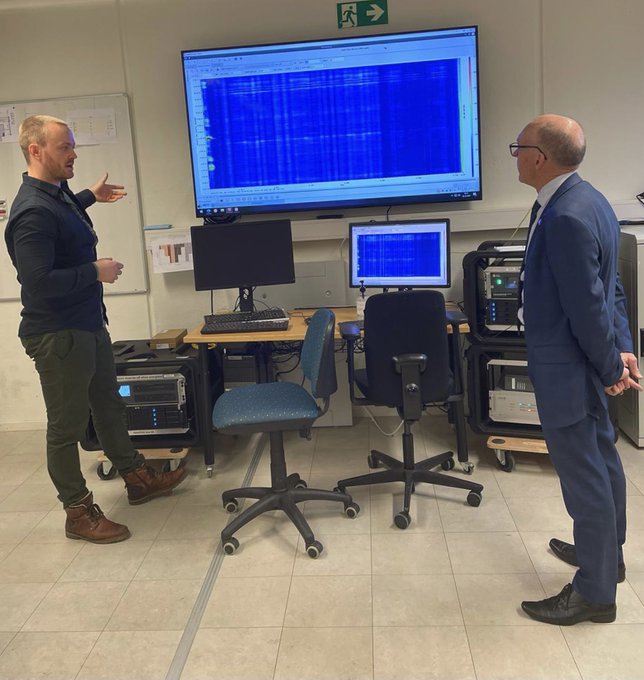 New constructions and installations
At Kjeller, where NORSAR's main office is located, Sindre Stokkan introduced Robert Floyd to NOR-FROST: a near-surface fibre optic sensing test site in the backyard of NORSAR.
The unique test facility presents an opportunity for conducting experiments as well as fundamental research on DAS and DTS fibre sensing technology. The different cables all end inside the NORSAR lab in the basement – as shown in the picture to the right – where Sindre explained the functioning of the fibre optic sensing installation to Robert Floyd.
Seeing the International Monitoring System in action
Later, the trip went deep into the woods of Løten, to Primary Seismic Station 27 (PS27) at Stendammen. Here they could see the International Monitoring System (IMS) in action.
With its 42 seismometers and 7 sub-arrays distributed over an area with a diameter of 60 km in Southern Norway, it is the largest seismic array station in the IMS.
NDC manager Jon Magnus Christensen described recent upgrades and gave Robert Floyd a tour of the station.
"Being able to show the Executive Secretary our IMS station at Løten was a great honor. One of the highlights of the visit was how eager Rob Floyd was to climb into all the pits and bunkers and actually see all the sensors and equipment that is in place to make the station perform optimally.

- Jon Magnus Christensen