Listening to the "secrets" of the oceans through the CTBT International Monitoring System
Dr. Georgios Haralabus' career path is a source of inspiration for Young Professionals
CTBT Young Professionals mentor Dr. Georgios Haralabus has an impressive and inspiring career trajectory. He is responsible for the management and sustainment of the hydroacoustic component of the International Monitoring System (IMS) and recently traveled to his Greek hometown to accept an honorary award for Sciences and Ethos from the Urban Non-Profit Organization CYCLOPS Amke, which has received international news coverage.
---
A professional journey filled with hard work and courage
Dr. Georgios Haralabus grew up in the small Greek town of Drama and studied at the Aristotle University of Thessaloniki. After graduating with Honours in 1987, he received a scholarship and made a big move to the US for doctoral studies in underwater acoustics at Duke University in North Carolina. Later, he received an MBA with Distinction from The University of Sheffield.  He worked in La Spezia, Italy, as a research project manager for the NATO Underwater Research Centre (SACLANTCEN - CMRE). Since 2009, he has been hydroacoustic project manager in the IMS division at the CTBTO in Vienna.
When it comes to his professional journey, Dr. Haralabus told the Athens-Macedonian News Agency (ANA) that he takes nothing for granted. He explained that keeping your balance is a challenge when you go through many changes and stages. "The journey was wonderful but not easy at all. It is a constant change of environment and situations that simultaneously wear you out and revitalize you," said the Greek scientist.
He thinks that perseverance, hard work, and courage were the three main ingredients that led him to a successful professional career at a time when young people living in the Greek provinces had few opportunities.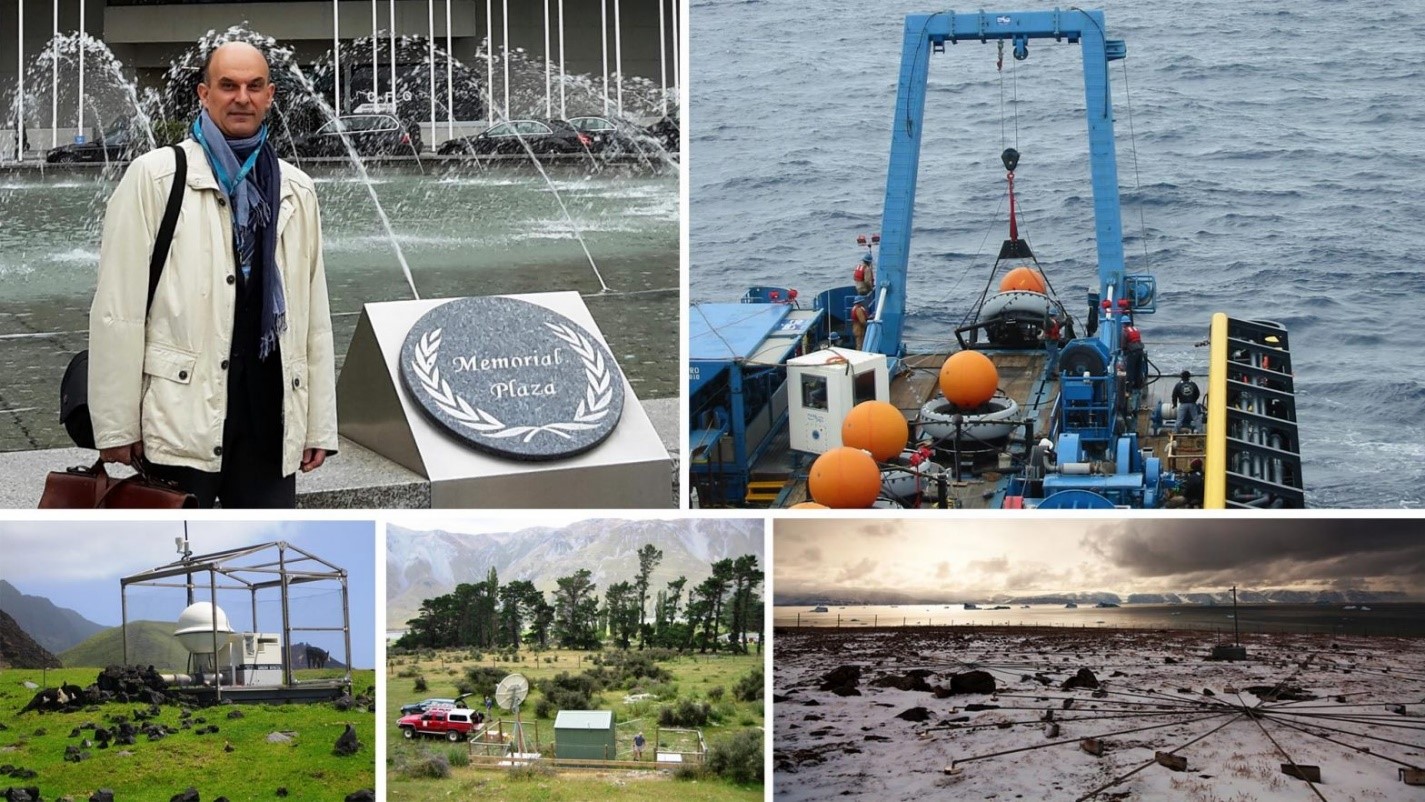 Making the planet safer
Now, he "listens" to the oceans and travels far and wide to safeguard the operation of the IMS hydroacoustic stations. The hydroacoustic component of the IMS does not only monitor the oceans to inform us of potential nuclear tests – it also gives the scientific community valuable insights and data on other underwater phenomena.
Read more about the hydroacoustic component of the IMS here: https://ypn.ctbto.org/the-hydroacoustic-component-of-the-IMS-captures-the-sound-of-the-ocean-during-COVID-19
Words of encouragement
Honored to receive an award from the CYCLOPS Amke, Dr. Haralabus also underlined that the event could inspire young people.
"But what made me especially happy is that events like these offer young people the opportunity to realize what one can achieve by having a vision and following the simple recipes of learning, work, perseverance, and patience. Recipes, which even in a pervasive atmosphere of ephemeral views and disorienting ideas, remain a compass because they are still part of the timeless Greek values and ethos," Dr. Haralabus told the ANA.
Read the interesting article and interview with Dr. Haralabus here: https://www.amna.gr/en/article/597663/The-Greek-scientist-who-reveals-the-secrets-of-the-oceans-making-the-planet-safer